Life information(English)
Notice regarding counseling for Foreigners (外国人相談窓口のお知らせ)
Multicultural Symbiosis Promotion Room , Main Government Office Bldg. 2F , City Hall.
9:00 to 17:00 (Closed 12:00 to 13:00)
Portuguese , Spanish and English : Monday through Friday
(Automatic Translation Machine is also available for other languages.)
In addition , the Health Insurance and Pension Division and Nursery and Child Education Division have staff available to help in Portuguese (9:00 to 17:00), the Welfare Administration Division in Portuguese (9:00 to 16:30), Child-rearing Generation General Support Center in Portuguese and Spanish (9:30 to 17:30).
We made the Multicultural Symbiosis Promotion Room!
The Multicultural Symbiosis Promotion Room will be established in Komaki City to promote multicultural symbiosis on August 2019. Please be aware of the changing contact information.
Life Information News,Komaki(生活情報誌「こまき」)
Summarizes information useful for daily life, published once 1 month.
Back numbers(バックナンバー)
Recyclables and Garbage(ごみの分け方・出し方)
Garbage Sorting App is available in foreign languages!!
Komaki City has released a Garbage Sorting App "3R" in foreign languages! It is useful for garbage sorting. Please try it.
Available Language
Portuguese, Spanish, English, Chinese, Indonesian, Tagalog, Vietnamese and Japanese.
Useful features
Calendar
You can check the Calendar schedule of when to dispose garbage in your local area.
Sorting/setting out recyclables and garbage
You can check how to sort and set out recyclables and garbage.
Sorting Chart
You can search which garbage category each item should be sorted as from the item names.
Download here
Ecorin's Garbage Separation and Diposal Basics DVD(エコリンのごみ分別教室)
Komaki Disaster Information E-Mail Delivery Service(小牧市防災情報メール配信サービス)
This service will provide information regarding to disasters such as earthquake, heavy rain, storm or missile launch via e-mail (mobile/smartphone/PC).
How to register
Please send an e-mail to [t-komaki-en@sg-m.jp].
The URL for registration will be sent. Access to the URL.
Check the terms of service and accept the E-mail delivery service.
Confirm the registration information and you are registered!
Please carry the emergency cards for foreigners!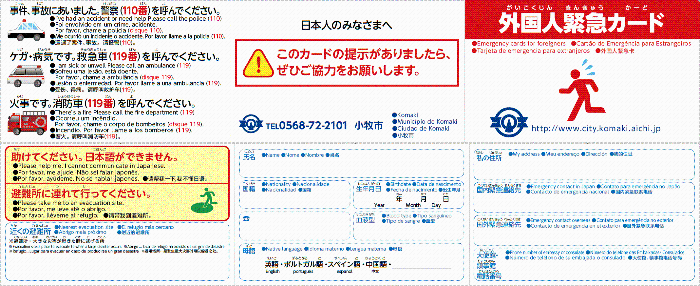 Even if you are unable to communicate in Japanese, in case of accidents or sickness, you can show this card to Japanese person and point to the reason you require assistance.
Keep this card with you to remind you of emergency contact information when needed.
Inrerpretation Service for Calling Ambulance or in Case of Fire
Call "119" in case you find a fire or requesting an ambulance for injuries or sudden illness. Now we have an interpretation service when calling on the phone or talking to the fire fighters or ambulance crews.
You may answer to the questions when calling.
Locations
Inuyama city, Koman city, Komaki city, Iwakura city, Kiyosu city, Kita-nagoya city, Toyoyama cho, Oguchi cho, Fuso cho.
Available Languages
English, Chinese, Korean/Hangul, Spanish, Portuguese.
Komaki Junkai Bus (こまき巡回バス)
Use the Komaki Junkai Bus to go to public facilities.
Let's join a ward community association!(自治会のしおり)
SCHOOL ADMISSION GUIDE FOR FOREIGN CHILDREN(就学ガイド)
小牧市多文化共生推進プラン(英語・フィリピン語)
Disaster and Emergency Preparedness Response Guidebook
関連ページ
この記事に関するお問い合わせ先

市民生活部 多文化共生推進室 多文化共生係
小牧市役所 本庁舎2階
電話番号:0568-39-6527 ファクス番号:0568-72-2340